Surviving Winter, the Bird Way
Just as we rely on coats, hats and mittens to keep us warm in the face of winter's icy grip, birds employ a number of methods to survive the adversity of winter. And you can help!
Food is the most essential element, providing birds with the energy, stamina and nutrition they need. To stay warm, birds will expend energy very quickly, some losing up to 10% of their body weight on extremely cold nights. An ample supply of high-calorie foods such as sunflower chips, peanuts, mealworms and rendered beef suet is crucial to a bird's survival.
We can play a vital role, as feeding the birds becomes critical when extremely cold conditions occur. At these times, a supply of food can mean the difference between life and death for a bird.
Most birds will adjust their feathers to create air pockets that will help them keep warm. You will often notice the birds look fatter or "puffed up" during cold weather. This is because the birds are fluffing up their feathers; the more air space, the better the insulation.
Staying warm is not all about food and feathers though. Some birds perch on one leg at a time, drawing the free leg to their breast for warmth. Most birds will shiver for short term adjustments to the cold. Shivering converts muscular energy into heat for the short term, but the energy must be replenished shortly thereafter.
While birds are equipped to withstand most winter weather, survival can be made easier by providing food, a heated, open source of water and protection from the elements with natural plant cover or a roosting box.
Stop by the store today and let us show you which high-energy foods will help your birds brave the cold snap!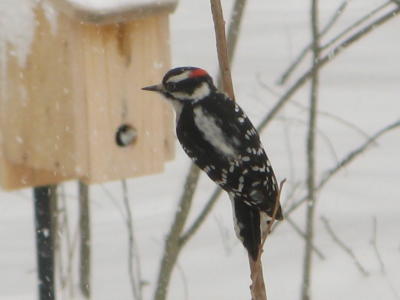 How to Keep Your Birds Warm
Keeping winter backyard birds warm is as easy as offering rich, high-energy foods and open water sources.
Offering Fats with Fruits

Suet is a great winter food. A pure fat substance, suet provides high energy when insects are more difficult to find. We have many suet choices with additives such as fruits, nuts and insects to make them even tastier to the birds. Full of essential fat, fruits and more, Nuts & Berries Suet and Jim's Birdacious® BugBerry™ foods are sure to keep your birds warm.

Energy-packed Cylinders

Bird food cylinders are a win-win for you and your birds. Cylinders, like the Nutty for Nuts, are long-lasting allowing you fewer trips to fill the feeder. The birds stay longer eating at the feeder instead of grabbing a morsel and quickly flying away to eat it elsewhere. Nutty for Nuts is packed with high-calorie peanut and tree nut energy to help the birds stay warmer. There are no shells, providing a quick energy snack for birds and no mess for you.

Open Water = Warm Birds

Water sources in winter are a wonderful way to attract a variety of birds, such as the American Robin, that don't normally visit feeders. They provide a reliable source of water for bathing and drinking. Bathing is especially important in cold weather to keep feathers in top condition. Available drinking water allows birds to maintain a healthy metabolism to stay warm. Use a heated bird bath or add a heater to your existing plastic, metal or stone bird bath. This will help make some water, available even on the coldest day.
Bring Home a Seed Character Today
Honestly, could they be more adorable? Available exclusively at Wild Birds Unlimited, we offer several fun seed characters, including Hoot the Owl, Sugar the Cat with Honey the Mouse and Preston the Penguin. Each is a mix of seeds, nuts and fruit and a wonderful addition to any yard.
These characters can help you attract many of your favorite birds, including chickadees, woodpeckers and goldfinches.